NEUVOGEN has taken a fundamentally different approach to solving cancer.
Unlike other early-stage immuno-oncology companies, we try to solve for multiple issues arising from the complexity of cancer biology.
Our approach to solving cancer is based on the concept that in order to fully address the complexity of solid tumor cancer biology, many targets and multiple biologic pathways need to be addressed simultaneously.
The science and technology behind NEUVOGEN holds the promise to overcome many of the biology-based limitations associated with earlier generations of whole cell tumor vaccines, including target optimization and magnitude of the generated immune response.
NEUVOGEN's system approach to solving cancer is multifaceted and focuses on maximizing the breadth and magnitude of the immune response while simultaneously trying to minimize the immunosuppressive effects of the tumor microenvironment.
OUR THERAPEUTIC WHOLE CELL
CANCER VACCINE PLATFORM
Our platform utilizes bioinformatic optimization of component cell lines along with proprietary combinations of genetic modifications to reduce immunosuppressive factors and enhance immunostimulatory factors within the vaccine microenvironment to provide the immune system with an unimpeded view of the cancer.
MAXIMIZING
cancer target breadth
to elicit and sustain an
immune response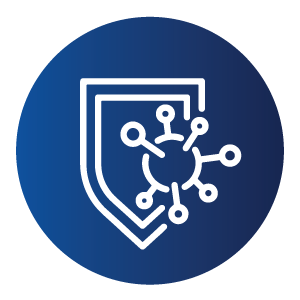 AMPLIFYING
the immune response
through multiple
pathways

MINIMIZING
immunosuppression
within the tumor
micronvironment
Immune targeting approaches typically focus on one or more selected targets, but some cancer cells within a tumor may not express these targets, leading to immune escape by the tumor.
In order to drive the deepest and most durable clinical response, NEUVOGEN's proprietary platform is designed to theoretically target all the cancer cells within a tumor, and then amplify the immune response through multiple pathways. NEUVOGEN also addresses immunosuppression within the tumor microenvironment through various combination agents.